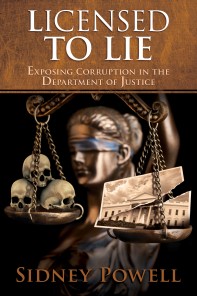 The book is now available for pre-order from BooksAMillion, Barnes & Noble, Indiebound, and Amazon!
Please note, however, that only books ordered through PayPal on the website www.LicensedToLie.com will be autographed by the author.  Watch for book signing events on our Facebook page and on the Licensed To Lie website!
The book includes a special Foreword by Ninth Circuit Chief Judge Alex Kozinski, in his personal capacity.
A tragic suicide, a likely murder, wrongful imprisonment, and gripping courtroom scenes draw readers into this compelling story giving them a frightening perspective on justice corrupted and who should be accountable when evidence is withheld. Licensed to Lie: Exposing Corruption in the Department of Justice is the true story of the strong-arm, illegal, and unethical tactics used by headline-grabbing federal prosecutors in their narcissistic pursuit of power. Its scope reaches from the US Department of Justice to the US Senate, the FBI, and the White House. This true story is a scathing attack on corrupt prosecutors, the judges who turned a blind eye to these injustices, and the president who has promoted them to powerful political positions