Licensed to Lie — Exposing Corruption in the Department of Justice by Sidney Powell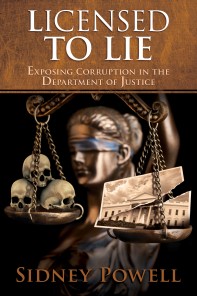 A gruesome suicide, a likely murder, a tragic and needless plane crash, wrongful imprisonment, and gripping courtroom scenes draw readers into this compelling story, giving them a frightening perspective on justice corrupted and who should be accountable when evidence is withheld.
Licensed to Lie: Exposing Corruption in the Department of Justice is the true story of the strong-arm, illegal, and unethical tactics used by headline-grabbing federal prosecutors in their narcissistic pursuit of power. Its scope reaches from the US Department of Justice to the US Senate, the FBI, and the White House. This true story is a scathing attack on corrupt prosecutors, the judges who turned a blind eye to these injustices, and the president who has promoted them to powerful political positions.
In a compelling Foreword written by Ninth Circuit Chief Judge Alex Kozinski in his personal capacity, he notes the importance of this issue, and as did the Washington Post recently, urges a national discussion of the issue.
The book will be out soon.  You may pre-order at www.LicensedToLie.com. Pre-orders will be autographed by the author and a portion of the proceeds will benefit the Constitution Project, NACDL, The Texas Equal Access to Justice Campaign, and Pisgah Legal Services.