New York Times Joins Kozinski Chorus on Epidemic of Brady Violations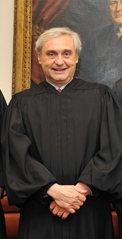 Entitled RAMPANT PROSECUTORIAL MISCONDUCT, the New York Times Editorial today joins the Los Angeles Times and cites Ninth Circuit Chief Judge Alex Kozinski's recent dissent from the denial of rehearing en banc in the Olsen case, where many judges (but not enough) saw a significant violation of the defendant's constitutional rights when the prosecutor failed to provide evidence that would have seriously impeached a crucial witness. Kudos to the Times for recognizing the problem and speaking out.
Brady violations undermine our system of justice and jeopardize the freedom of each of us. A prosecutor's job is to seek justice-not obtain convictions, but far too many have lost their moral compass. One need only look at the legacy of injustice of the Enron Task Force prosecutors and the prosecutors of Ted Stevens and others in Alaska to see the ravages of the win-at-any-cost mentality that has infected our Department of INjustice-especially in high profile prosecutions.
The comments to the NYT Editorial so far are particularly telling. Yes, there are ethical rules that are supposed to apply to prosecutors, but the various bar associations are not enforcing them. To make matters worse, the Department of INjustice demands the right to filter all production of evidence favorable to the defense through the prosecutor's lens of materiality and are advocating for the imposition of a materiality requirement in the bar rules nationwide. That means the prosecutor really doesn't have to produce anything, and unless a defendant is lucky enough to have a judge like Emmet Sullivan or a handful of other district judges who compel the government to produce everything, the prosecutors are licensed to lie and convict on whatever their own view of their case is. The truth can be suppressed for years-if not forever-while innocent people languish in prison or are executed on death row.
On top of that, our Department of INjustice also opposes legislation proposed in a bi-partisan effort two years ago that would codify the rule of Brady and give it some teeth. Called the Fairness in Disclosure of Evidence Act, the legislation received wide support from almost every legal organization but one-the Department. That is sad and unacceptable. We've got to do better. Wrongful convictions destroy countless lives. There is no reason that an open file policy could not be standard operating procedure except in cases of national security or clear danger to witnesses. Those situations are comparatively rare. And the Fairness in Disclosure of Evidence Act should be enacted immediately.