NY Times Corroborates White House Counsel's Role in Increased Secrecy & Circumventing the Rule of Law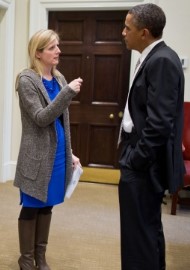 Three days after the press release announcing the publication date of Licensed to Lie: Exposing Corruption in the Department of Justice, which will lay bare the role of current White House counsel in "plainly suppressing" evidence favorable to the defense while four Merrill Lynch executives and others went to prison for conduct that was not a crime, a New York Times article by Charles Savage expounded on just how much power and influence former Enron Task Force prosecutor Kathryn Ruemmler has exerted in promoting the "excessive secrecy" that has become a hallmark of President Obama's two terms in office.  Ruemmler has been the longest serving of Obama's White House counsel.
Savage quotes the President as saying:
"Kathy has become one of my most trusted advisers over the past few years," . . . . "I deeply value her smarts, her judgment, and her wit — but most importantly her uncanny ability to see around the corners that nobody else anticipates."
"Cutting corners" would be more accurate, as Ruemmler has a history of hiding facts and circumventing the law.  We should not be surprised about the increased secrecy of this administration while she has been advising the President.  Savage reports:
Ms. Ruemmler took a hard line in internal debates about keeping executive branch documents secret, like memos from the Justice Department's Office of Legal Counsel sought by congressional overseers, or in Freedom of Information Act lawsuits. Her arguments — that disclosing them would chill candid advice to presidents — have contributed to Mr. Obama's transition from promising greater transparency to being criticized even by his own allies for excessive secrecy.
The New York Times article also credits her with great influence in Obama's increased use of Executive Privilege to circumvent the Rule of Law.
Ms. Ruemmler has played a role in many highly charged issues, including helping develop options to carry out Mr. Obama's decision to take unilateral executive actions to bypass congressional inaction.
That probably also includes his tepid and ineffectual response to the sensational disclosures regarding the National Security Agency's spying practices.
She advised Mr. Obama that he could make recess appointments during a Senate vacation in 2012 even though the Senate was holding "pro forma" sessions to avoid a formal recess, arguing that if the courts disagreed, the presidency would most likely be no worse off than if Mr. Obama did not challenge the tactic, officials said.

She may have miscalculated: An appeals court struck down the appointments in a sweeping way, essentially eliminating recess appointment powers. The case is before the Supreme Court.
This wasn't Ms. Ruemmler's first miscalculation.  Her prosecutions while on the Enron Task Force were infected with her prosecutorial misconduct, her suppression of evidence favorable to the defense while innocent Merrill executives went to prison, and the reversals of numerous charges on appeal.  Bar grievances filed against her were brushed aside to facilitate her ascension. Meanwhile, the Department of "Justice" continues to hide and protect prosecutors who have knowingly committed violations.
Described by Savage as the "lead defender against [Congressional] oversight investigations," Ruemmler
recommended that Mr. Obama invoke executive privilege to block a subpoena for Justice Department emails discussing lawmakers' inquiries about the Fast and Furious gun investigation, officials said.
To see more of the real story of how Chief White House Counsel and her friends from the Enron Task Force (some also mentioned in the article)  rose to fame and power following their wrongful convictions and corruption of justice, read Licensed to Lie: Exposing Corruption in the Department of Justice, with a Foreword by Ninth Circuit Chief Judge Alex Kozinski, in his personal capacity. The book is available now for pre-order from all booksellers and at www.LicensedtoLie.com. The release date is May 1-Law Day!