Look Who's Advising Obama on Benghazi Cover-Up-Ruemmler & Monaco Revealed in LICENSED TO LIE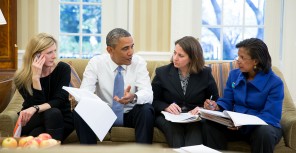 LOOK who's advising the President on the Benghazi cover-up! Kathryn Ruemmler, chief White House Counsel, seated to the left of the president, was lead prosecutor on the Enron Task Force who "plainly suppressed evidence" favorable to the defense while 4 Merrill Executives went to prison for something that wasn't a crime. As James Carafano makes clear, the President could have chosen the path of Truth taken by Reagan in the Iran-Contra debacle, but instead, we have lies and a cover-up and now the release of Taliban terrorists from GITMO.
Ruemmler and her corrupt team of prosecutors (also promoted to high positions) actually YELLOW-HIGHLIGHTED evidence they were legally and ethically required to provide to the defense, and they deliberately hid it instead. And we wonder why we can't get the truth on Benghazi??!  Also pictured just to the right of POTUS is another member of the corrupt cabal of prosecutors, Lisa Monaco-implicated in the Enron Broadband trial misconduct.  These former federal prosecutors are all discussed in the new book LICENSED TO LIE: Exposing Corruption in the Department of Justice with the Foreword written in his personal capacity by the incomparable Alex Kozinski, Chief Judge of the Ninth Circuit.
We called for Ruemmler's resignation a year ago, but Obama wanted her to stay.  She left just after the announcement of the release of the new blockbuster revelations of her legal, ethical and constitutional violations in the best-selling book LICENSED TO LIE.  Coincidence?  We think not.
Meanwhile, brilliant and profound reviews of LICENSED TO LIE continue to pour in-from readers and writers!  Be a part of the national discussion Judge Kozinski calls for on this important issue.  See who Obama chose to whisper in his ear on decisions affecting every aspect of our lives despite-or because of-their disregard for the Rule of Law and their legacy of injustice?
Photo by Pete Souza (White House flickr)
Comments Off

on Look Who's Advising Obama on Benghazi Cover-Up-Ruemmler & Monaco Revealed in LICENSED TO LIE