LICENSED TO LIE Hits #1 BESTSELLER on AMAZON in LAW/ETHICS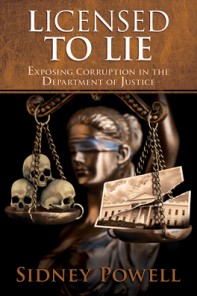 By May 9th, the ninth day of its release, LICENSED TO LIE: Exposing Corruption in the Department of Justice was the #1 BESTSELLER on Amazon in LAW & ETHICS!  The book has received stellar praise from lawyers and on leading legal blogs such as Above the Law and MAL Contends, but, the book is written for the lay reader as well.  Here are excerpts from two leading literary reviews-Kirkus and ForeWord:
"A former Justice Department lawyer, who now devotes her private practice to federal appeals, dissects some of the most politically contentious prosecutions of the last 15 years. Powell assembles a stunning argument for the old adage, "nothing succeeds like failure," as she traces the careers of a group of prosecutors who were part of the Enron Task Force. The author brings the case for judicial redress before the court of public opinion."- Kirkus Reviews

"Powell has done the law and every citizen a great favor by calling out an unholy practice of government attorneys. Licensed to Lie: Exposing Corruption in the Department of Justice, by defense attorney Sidney Powell, is a lurid tale of deceit and amoral behavior on the part of government prosecutors. It is so well written and researched that the story makes for a stunning read."-ForeWord Reviews
We have a number of events scheduled across the country where the author will be speaking along with selling and signing books.  We appreciate your interest in this subject that is so important to the freedom of each of us and to the Rule of Law on which our Country was founded.  The book, written in the narrative style of a legal thriller, aims to reveal the dangers and human costs to everyone when prosecutors are allowed to hide evidence favorable to the defense.  As Alex Kozinski said in the Foreword, it's time for a national discussion of the issues raised in the book. There are things that can be done now to improve the system for everyone.