More Evidence of Double Standard for Prosecutors' Dealing INjustice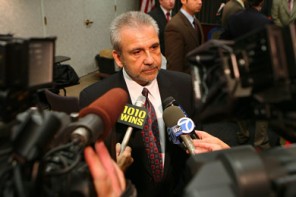 ProPublica has another disturbing article today, including the troubling details of the wrongful prosecution, conviction and imprisonment of a man for 16 years, and the history of a district attorney's office that has done nothing to stop it.  Now the wronged defendant has found a good lawyer, and they are suing the prosecutors and the city for $150 million.
Meanwhile, bar associations and supervisory attorneys have failed miserably to police their own.
For many legal experts, defense lawyers and advocates for the wrongly convicted, Vecchione [the prosecutor with a lengthy record of misconduct] is a prominent example of a troubling aspect of the American criminal justice system: Prosecutors who are implicated in misconduct often seem immune from meaningful punishment.

A recent investigation by ProPublica looking at more than a decade's worth of court records found that New York judges don't routinely refer prosecutorial misconduct to state panels that handle attorney discipline, even when they overturn convictions and upbraid prosecutors for constitutional violations. State disciplinary panels, when they do get referrals, rarely impose meaningful sanctions. The city's district attorneys lack the will to punish their subordinates, perhaps out of fear of embarrassment. All told, ProPublica found 30 cases in which judges reversed convictions based on misconduct by New York City prosecutors. Just one of these prosecutors was publicly disciplined.

The pattern is much the same across the country. The Northern California Innocence Project reviewed 12 years of court opinions and found that California prosecutors were hardly ever disciplined after convictions were overturned because of their misconduct.

Frederic Block, the federal judge presiding over Collins' civil lawsuit, has expressed something like amazement at Hynes' unwillingness to sanction Vecchione.
We're glad Judge Block is willing to take it seriously.  We have found only a few who are.  These include District Judges Emmet Sullivan,Don Walter, and Gloria Navarro; Ninth Circuit Chief Judge Alex Kozinski and his panel in Milke, and Ninth Circuit Judges Carlos Bea, Stephen Reinhardt, and Sidney Thomas.  We hope to be able to add to this list daily, but right now, judges who are willing to hold prosecutors accountable are way too scarce. And our Bar Associations even more rarely address the issue.
Collins' lawyer, Joel Rudin, is not at all surprised. Rudin has a long record of holding the city's prosecutors accountable. He's won millions of dollars in settlements from the city for wrongfully convicting people, and maintains a long list of cases in which prosecutors have broken ethics rules to win convictions, all without disciplinary sanctions. Often those prosecutors have been promoted after state and federal judges have excoriated their conduct.
We have seen that too.  Until prosecutors are held accountable for their egregious wrongs, there is no system of Justice.