Happy Bastille Day! Celebrate Freedom!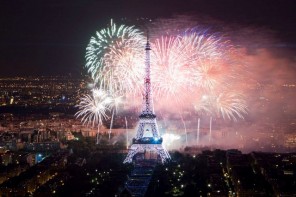 Fireworks illuminating the Eiffel Tower and today's fabulous image on BING remind us that our friends in France and cities throughout the United States join in celebrating July 14 as Independence Day for France.
"Allons enfants de la Patrie, le jour de gloire est arrive!"
May it also serve to renew our determination to protect and defend freedom and seek justice until it exists for every child, woman and man around the world.
Tiffany Shorter writing for The Washington Times reports: "Le quatorze juillet" (the 14th of July) in France marks Bastille Day, France's Independence Day.The holiday that commemorates freedom and equality is celebrated beyond its national borders. On the other side of the Atlantic, over 50 U.S. cities join the French as they remember the movement that led to the birth its nation in 1789. It can also be a time to focus on the friendship between France and America, two great nations that share common values.