DOJ's MOONLIGHT FIRE CASE GOING UP IN SMOKE?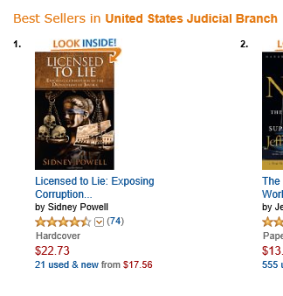 For a new twist on misconduct by Justice Department lawyers, take a look at the "Moonlight Fire" case and the recent developments in the state and federal courts in California.  To catch you up, read my articles on the New York Observer and on Fox News.
A former Assistant United States Attorney blew the whistle on the possible suppression and/or distortion of evidence by state and federal fire investigators and the attorneys for each who pursued a massive multi-million dollar action to recover "costs" and penalties from Sierra Pacific-one of the largest land-holders in the country.  Sierra Pacific, upon discovering new evidence, is turning the tables on the Department of Justice.  A state court judge has awarded $32 million against CAL fire-the state investigative agency.  Now the feds are back in court and on the ropes to defend their actions.
Sierra Pacific is due to file an additional brief on January 15, 2015,  to explain to senior federal District Judge Shubb how the government has committed what amounts to a fraud on the court.  The government has 30 days to respond, and then Sierra Pacific has until March 9 to reply.
Judge Shubb largely ignored the Department's outrageous attempt to knock all of the defense lawyers off of the case because they had read the affidavit and allegations of government attorney misconduct.   He vacated an order for a hearing on the government's motion.  In a fair and measured approach, he wants to determine first that Sierra Pacific can seek to set aside the original settlement under the Federal Rule 60(d)(3).  Stay tuned. . . .
Article corrected for due date of briefing @ 1:10 p.m. on 12/5 and further editted