Holder Resigns and Shoes Keep Dropping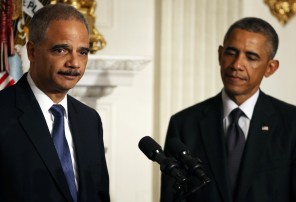 It seems to be a new world of Scandal every day with White House and Department of Justice.  I continually wonder why it seems so hard for those in power simply to be honest.  We all understand that people make mistakes, some even do things intentionally wrong-but the White House and DOJ coverups make it so much worse.  We can't solve a problem until it is honestly identified-and the promised "transparent" administration has proven to be the most opaque and dishonest.  Here's what we've found in the past couple of weeks.
Holder resigned-finally.  Way passed due.  He and his president both looked physically sick at the press conference.  Only time and a lot of digging will tell what they are trying to hide by his departure now.  To see the commentary on NewMaxTV following the press conference and including this writer, click here.
A federal judge in California issued an order on his own recusing EVERY federal judge in the entire district and asking Judge Kozinski, our hero and Chief Judge of the Ninth Circuit, to appoint a judge to hear the serious allegations of prosecutorial misconduct arising from an extortionate prosecution of Sierra Pacific for a fire it apparently did not cause-dubbed the MOONLIGHT FIRE case.  Sierra Pacific is successfully turning the tables.  A state judge has already awarded the company and related defendants $32 million against CAL-FIRE.  Read my article on the New York Observer for more details.
We've also covered the latest White House cover-up involving none other than former White House counsel, Kathryn Ruemmler, who is LICENSED TO LIE, being not only in the middle of the Benghazi coverup, the Fast and Furious coverup, and the IRS email and political targeting coverup, but now-the Hookergate coverup!  And she's being discussed for Attorney General??!!  Let's have that hearing!
WATCH for LICENSED TO LIE: Exposing Corruption in the Department of Justice to be featured on John Stossel's show this Thursday at 9 p.m. ET!
Comments Off

on Holder Resigns and Shoes Keep Dropping