Former State Prosecutor (now Judge) ARRESTED for Crimes Related To His Suppression of Evidence And Wrongful Conviction of Morton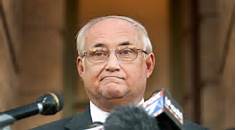 — Texas Judge Louis Sturns ruled that the former district attorney and prosecutor, Ken Anderson (himself a state court judge) must answer, criminally, for his misconduct which resulted in the wrongful conviction and imprisonment of Michael Morton for almost 25 years.  On Friday, the judge turned the tables on Anderson,who was in the courtroom and immediately arrested. Judge Sturns found that there is sufficient evidence to try Anderson on three charges: criminal contempt of court, tampering with evidence and tampering with government records. This is a very important turn of events and desperately needed to begin to restore credibility to our system of justice that has long given prosecutors far too much unquestioned leeway in deciding what evidence to provide a defendant.  Judge Sturns called it what it was–a fraud on the court and a crime against the defendant.
"This court cannot think of a more intentionally harmful act than a prosecutor's conscious choice to hide mitigating evidence so as to create an uneven playing field for a defendant facing a murder charge and a life sentence," Sturns said.